I built the Imperial Melody Discharger, an articulated Stormtrooper helmet music box, for the Star Wars Day ("May the 4th be with you") vinyl Stormtrooper helmet art show . For the event, artists across the Walt Disney Company, including DisneyToon Studios where I work, were invited to participate by using a blank 6″ helmet as the canvas for their work. What follows are my build notes and work in progress images.
My intention for the piece was to provide a view behind the mask of the anonymous Stormtrooper, while creating a fun, interactive moment for the person experiencing it. I wasn't sure exactly how to get there, but I was certain I'd need to cut the vinyl helmet open. You only have one shot at that, so I decided to first cut apart a CG model inside Maya, and rig it with pivot points that could be used in the real world for the facial articulation.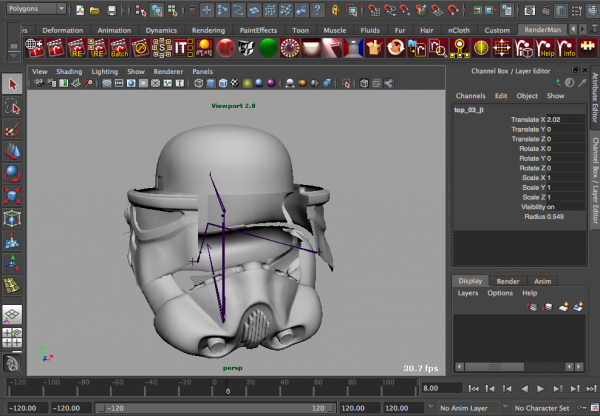 Mostly satisfied that I knew where to separate the parts of the helmet, I grabbed an X-acto knife, took a breath, and began the incision. (Note: It smelled really foul in there. Also note: I have no way to compare the smell to that of the insides of a tauntaun.)
Once splayed out I wasn't too surprised to see that the "pelt" of the helmet was darned floppy. I needed to build an armature to keep the structure solid, and to support the articulation of the two halves of the face mask.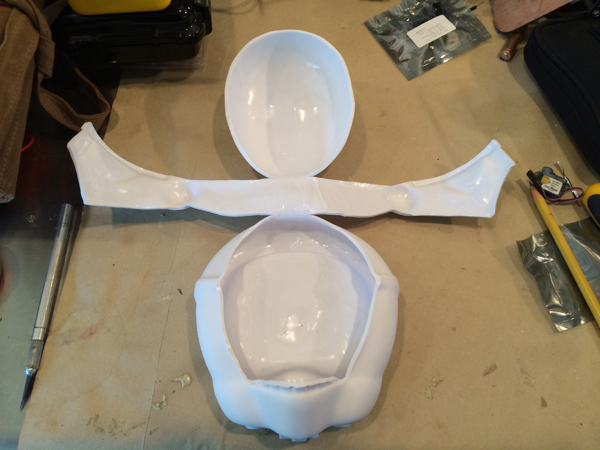 With very little time to get fancy building parts from scratch, I rummaged around my workshop, closets, and shamefully disorganized garage, until I came upon an old spider Babyface homage to Toy Story I'd build back in '95 out of Erector sets. Sorry, Spider Baby, I needed your body parts.